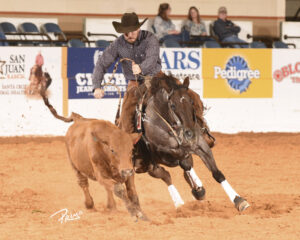 Brent Ratliff and Amanda Noyce have been lifelong cowpony enthusiasts. As times have changed, they saw the real need for a formalized online auction that was streamlined and made easy for both buyers and sellers. With bi-weekly options, you get to make your buying and selling decisions on your schedule and from your location.
$200 Consignment Fee · 8% Commission · No Pass Out Fee · Soft Close
Includes National advertising!
Maximum of 5 horses during each auction period.
Cowpony Sales is your professional online hub for available Western performance horses. Bi-weekly auctions start Wednesday evening and end the following Sunday evening, giving buyers time to fully investigate prospective purchases. For the sellers, this time allows Cowpony Sales the time to fully utilize multiple advertising avenues to maximize exposure. Each horse consigned will have multiple photos as well as video that accurately show the consigned horse. Additionally, each horse will have a detailed health and fitness form fully completed and signed by the consigner to give buyers confidence. Upon conclusion of the auction, Cowpony Sales will manage all the monetary transactions to ensure both parties equal protection. By accepting multiple forms of payment, we give buyers the option that work best for their situation.
Our number one goal is to make this easy for everyone.
1. Bi-weekly Auctions
i. Bidding opens Sunday evening and ends the following Sunday
ii. Limited number of horses
iii. Buyers, sellers, and horses don't have to travel!
2. Consignment ($200 fee; 8% Commission; No Pass Out Fee)
i. What the consignor gets
a. 1:1 personal attention
b. National Advertising
c. Secure transactions
ii. What we need
a. Minimum of 4 high quality pictures
b. Quality video demonstrating soundness and ability
c. Copy of registration papers
d. Copy of Coggins
e. Signed Consignment Form and Health and Fitness Guarantee
f. Signed Terms and Conditions
3. Buyers
a. Ten days to evaluate horse/pony before bidding/purchase
b. Access to signed Health and Fitness Guarantee
c. Confidence in proper registration and Coggins documents
d. Secure payment through Cowpony Sales
4. Soft Close
i. Bidding remains open at the end of the auction until there are no bids placed for a period of 4 minutes
5. At Auction Close
i. Buyer is to make payment within 2 business days
ii. Buyer is encouraged to secure insurance on purchased horse
iii. Seller agrees to board horse for 5 days without any additional charge
Iv. Buyer is responsible for securing transportation
6. Financials
a. All monetary transactions handled through Cowpony Sales, LLC
b. Multiple payment options for buyers
1. Wire, cashiers/certified check or credit card (4% added fee)
c. Seller will be mailed a check (minus commission) within 10 days of auction completion or when buyer's funds clear.
7. Professional
a. Licensed and insured